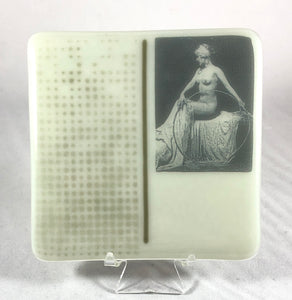 These coasters feature 9 historical photos of Victorian "Pin Up Girls" from a bygone era.  The early days of photography offered a new way for men and women to behold the female body in its natural form.  From a demure glimpse of a stocking to the more risque Bohemian nude, these posing women found a way to make some money in a time when working options were limited.. The base glass is Bullseye's Driftwood Gray. The Glass powder is Slate Gray, and the dividing glass Stringer is transparent Charcoal Gray. These additional glass components add to the depth and give an overall vintage feel to each piece. Each coaster is 4" x 4" and is set with rubber bumpers for a little extra grip for the surface upon which it is set. 
When you choose a coaster, you are choosing that particular pin up girl image. The added glass components made be arranged differently.
Please select the coasters you like by clicking the coaster and adding it to your cart. Once you add 6, an automatic discount will be applied.
6 coasters - $50 - GET ONE FREE!
8 coasters - $65