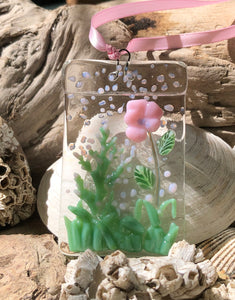 This Fused Glass Sun Catcher is handcrafted of mostly transparent colors to be illuminated by the sun.
Suncatchers - The Process: each of these darling vignettes starts with a sheet of clear glass, cut to approximately 2" x 3" blank with a corresponding 1/2" x 2" topper (the size sometimes varies slightly to within 1/4". Then a trip to the kiln to fire the blank, a hook, and a smaller blank topper to enclosed the hook, or to fuse the hook into the glass. After that firing is completed, any necessary cold work takes place. Usually this is required to smooth any rough edges. To accomplish this, a 400 grit diamond sponge is used with water. Those little diamond grits must be used wet to extend the life of the specialized sponge.
Then the designing happens! Each designed piece is typically created in 2-3 hours depending on the components of each piece. Components can include torchworked petals, stems or leaves, small Vitrigraph bits, Murrini cane is chopped, stringers are sized and trimmed, Frits are gathered and placed as strategically as possible, the larger components are glued and THEN each piece is ready to be fired in the kiln a second time. Each firing runs about 15-17 hours. After the second firing, any further cold work is completed and each piece is cleaned and dressed with a satin ribbon of a corresponding color.
The best thing here is that each Suncatcher is made individually and by my hand. My torch work is accomplished offsite, in space rented from Bullseye Glass' s Portland Resource Center.
This piece measures 2" x 3 1/8".